The Book:   Contact my new publisher, Lost Arts Press about obtaining copies.
The Video:  Purchase the video from me in DVD or Streaming format below.
Plane Blades:   I recommend Hock Tools

A recognized classic in the field. The book will guide any level of woodworker through all the steps and procedures in great detail, to arrive at a hand plane that is a  joy to work with. Many fundamentals of fine woodworking are taught along  the way making this an ideal project for the novice. Adjusting and using the plane is described in detail, as is use of the cabinet scraper – sister to the hand plane. Other projects include making a small hammer for adjusting the blade and making a marking knife.
A fine hand plane is a remarkably useful  tool and Krenov-style wooden planes are among the best — at a fraction of the cost of high-end metal planes. I was introduced to this type of wood plane as a student of Krenov's back in 1984 and I have worked with them daily ever since. Used sensitively, they will make invisible edge joints, trim end-grain cleanly and accurately, bring surfaces to gleaming perfection, and allow you to work with extraordinary accuracy. What's more, they may  be built to accept extra-thick blades of highest quality steel for ease of sharpening and durable edge retention. Finally, wood planes simply feel great in the hand and are a joy to use.
When you purchase your book here you receive an autographed copy. I enjoy making that small connection with each of my readers and I would love to hear about your experiences with plane making. If you share those experiences, and perhaps an image of a plane you made, I'll post them to my blog entry devoted to reader reviews and photos. And, of course, check out that link to see how other woodworkers have responded — there's a lot of them!
The Video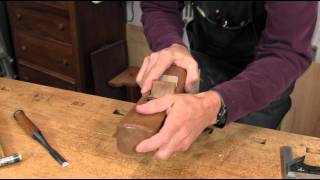 The video provides over 4-1/2 hours of detailed  instruction on making and using wood planes, closely following the format and content of my book. The book or the video will get you to a working plane. Purchased together the book and video make for a comprehensive learning experience — the next best thing to
private instruction
. Available as a two-DVD set or by streaming (a cost-saving option, especially for international customers, as there is no shipping charge).
DVDs $29.95 (plus shipping)    
Stream $19.95    

When your order is received I will send you a login and password to access the video online – this may take up to 24 hours (hopefully I am working in the shop, not checking email!). Your purchase grants 1 year of access from when your password is sent. The password is reset from time to time. Email me if you need a new password.


Shipping Information
Within the USA,  choose the Priority shipping option at checkout. Your order will ship USPS Priority Mail for $6.95 with 2-3- day delivery
OR
Within the USA, choose the Economy shipping option at checkout. Your order will ship USPS Media Mail for $3.75 with 3-7 day delivery.
Outside USA $24-$34 USPS International First Class. Price calculated at checkout.