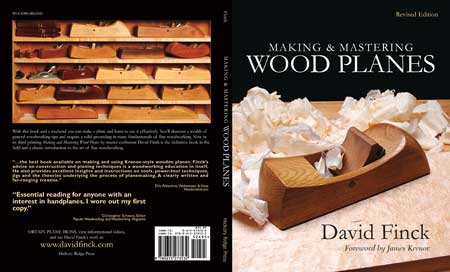 Book Cover - Click Image to Zoom
"Making and Mastering Wood Planes" is in its 5th printing.
Also Available in
Video Format.
(See the trailer
here
.)
Woodworkers know that some tools are just a pleasure to own and use. A great hand plane probably tops the list of wonderful woodworking tools and shop-made wood planes are as good or better as any, and a fraction of the cost of high-end metal planes. A fine wood plane will make invisible edge joints, trim end-grain cleanly and accurately, bring surfaces to gleaming perfection, and allow you to work with extraordinary accuracy. Wood tools feel great in the hand and wood planes are no exception. Wood planes can be adjusted more accurately, and will hold those adjustments better than any other type of plane. They can also accept extra-thick blades of highest quality steel (A-2 cryogenic is my choice).
Making your own tools can be one of the most satisfying of woodworking projects and anyone with novice skills and a limited shop can have success making their own wood plane. The book or video will guide you from start-to-finish, but put the two together (and take advantage of the Free Shipping offer) and you'll have the most in-depth and thorough coverage available of this enjoyable woodworking project. The book works great as a bench-top reference and self-paced instructional guide and includes many fundamentals of fine woodworking as well. The video pulls it all together and presents information and nuance that truly only comes to life in moving pictures. Additional wood tool projects include making a plane adjusting hammer and a carving or marking knife.
I decided to write "Making and Mastering Wood Planes" after teaching dozens of workshops on the topic at craft centers and schools across the country over many years. It was the pure delight expressed by so many students at having the simple, yet subtle mysteries of the hand plane uncovered that inspired me. I was introduced to wooden hand-planes many years ago as a student of the craftsman so often associated with this particular style of hand-plane, James Krenov. He was also kind enough to provide a forward for the book. Students of mine had suggested on many occasions that a dedicated book was needed on the topic that would appeal to novice and experienced woodworkers alike. You see, building your own hand-plane is not just an end to acquiring a great hand tool, but also serves as an elegant framework for learning many fundamentals of fine woodworking. Three years in the making, with very detailed text and hundreds of photos and drawings, I think you will find that "Making and Mastering Wood Planes" will ably and assuredly guide you through the process while helping to elevate your skills to the next level.
Read this very favorable review by Chris Schwarz.
Now in its fifth printing, published by Hickory Ridge Press (my self-publishing concern) the book is offered in soft-cover, 192 pp, 245 color photos, 93 drawings, Printed on 100# glossy stock. For this printing I upgraded the binding from "perfect bound" to "Smyth sewn". This is a more durable soft-cover book than the perfect bound with pages sewn into signatures which also allows the book to more readily lie flat when opened.
Topics include:
Tuning up a metal block plane and all the necessary hand tools
Fast efficient and effective sharpening
Tuning a band-saw and re-sawing plane blanks
Making the plane
Troubleshooting
Using planes for: edge-joining, squaring, truing and polishing surfaces, and trimming
Planing aids: shooting boards, etc.
Scrapers and scraping
Making rocker-bottom planes and scraper planes
Making a marking knife and plane adjusting hammer
"What I'd like to see happen, through this book that David has written, is for you to make a plane or planes that will, in turn, make fine music."

~ James Krenov (from the foreword to Making and Mastering Wood Planes)
| | |
| --- | --- |
| Making and Mastering Wood Planes (signed copy)- $24.95 | |
Free Domestic Shipping! (International customers please use the book order button above, and the individual DVD order button found on the Video page to order both items -- this will correctly calculate your shipping charge. See below for other purchasing options).
| | |
| --- | --- |
| Buy the book and DVD together and get free shipping in the USA. Use this button to order both. $54.90 | |
Add on
plane irons
and get free shipping in the USA too! You will be credited for the shipping charge that shows on your invoice.
Priority Mail or First Class International Shipping
Flat Rate Within the U.S. -- $6.50
Flat Rate to Canada -- $20.85 USD Canadian customers may prefer to order the book through Lee Valley
Flat Rate Worldwide -- $25.25 USD. German and European customers may prefer to order the book through Dictum
Important Information for International Orders: shipping cost listed above maximum limitation one book and one video and up to 3 irons per order. Please contact me for shipping arrangements for higher quantities or other combinations. Please allow 6-10 business days for international delivery.