David Finck Woodworker      Spring 2012
Notes From the Bench…
An occasional (very occasional) newsletter

---
Project Blog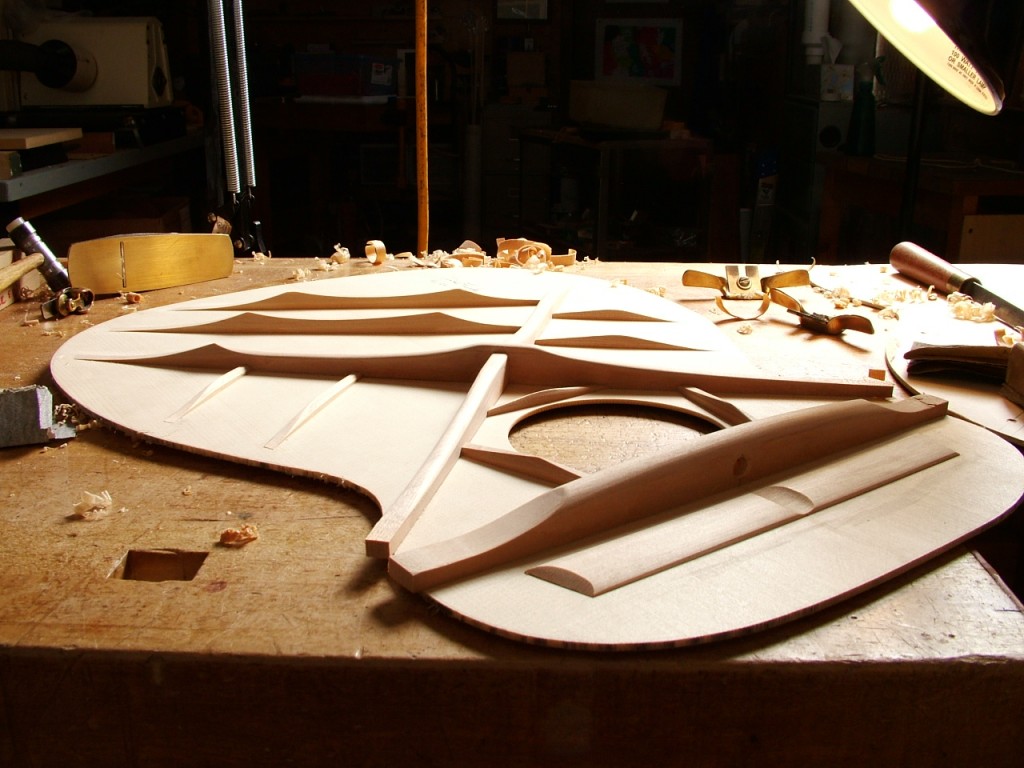 In October I started chronicling my daily work in the form of an ongoing photo essay. I hope you'll find time to stop by for an occasional visit: http://www.davidfinck.com/blog/.
You'll see what I am currently working on, gain some insights into my woodworking methods and madness, and keep up with my plans for the future. I'd also welcome your comments if you feel inspired.
I have always felt motivated to share my woodworking knowledge. I guess it's in my nature, but there is also a sense of obligation to the taxpayers of California who many years ago funded my woodworking education (and continue to school many others) through the College of the Redwoods Fine Woodworking Program. The blog adds to my book writing and teaching activities in that spirit. Right now you can follow my progress on Guitar Number 26 (an OM body style, acoustic steel-string with Macassar ebony back and sides). Upcoming plans include a rocking chair, viol da gamba, and then, a couple of violins.
---
Making and Mastering Wood Planes – the movie
A few months ago, woodworker, videographer, and good friend, David Esposito spent a week with me in my shop shooting a companion video version of my book, "Making and Mastering
Wood Planes". There is no denying, when it comes to hands-on skills, actually seeing it done
generates insights and reveals nuances that reading alone cannot fully convey. Mr.
Esposito's talents behind the camera and as an editor artfully realized the promise behind this statement. The video focuses strictly on the nuts and bolts of plane-making and use, while closely following the general outline and approach of the book. The book has proven its worth, aiding thousands of woodworkers in their plane-making, and meshes well with the video as a bench-top reference and self-paced instructional guide. Furthermore, it provides considerable instruction on related fundamentals of fine woodworking not found in the video. You might consider purchasing a video, book, and plane iron at the same time – with a combined order you save on shipping and you will have everything you need to dive in deep and learn to make and use this most wonderful tool, the wood hand plane — what James Krenov referred to "as the cabinetmaker's Stradivarius." Click here  to order and for  more information.
---
Buying Opportunities
I have newly focused on the Internet as my primary sales vehicle. This eliminates intermediaries and saves me on the costs and time commitments of shows. The savings allow me to offer these works-on-hand at attractive new pricing. Several pieces have sold already, below are what remain. Click on an image for more information.

---
Private Instruction
I'd like to invite you to come and spend a day in my shop, or perhaps even a week. Lately, quite a few folks have decided to do just that. We've covered the basics like plane-making and use,
frame and panel work, and dovetailing, and we've also gotten into more advanced techniques like band-sawn veneers and building a glass-front Krenov-style wall cabinet. Coming up are sessions on designing and making cabinet-stand legs, coopering and incorporating a coopered door into a cabinet, and building a hall table. Perhaps you are interested in scheduling your own personally tailored private workshop?

Click here

for info on cost and mechanics. (Pictured: Mr. Edward Murchison)
---
Plane Auction
My alma mater, the College of the Redwoods Fine Woodworking Program supports deserving students through the James Krenov Scholarship Fund. Many years ago I held a sealed-bid auction of a plane I made during a plane-making workshop. A fellow went home with the plane, and the proceeds of the sale benefited the scholarship fund. I tried this idea a few weeks ago, simply advertising the auction with a small notice on my web site.  This was also successful and resulted in the sale of a sweet little polishing plane and hammer for $276. If you wish to be notified when there is a plane up for auction, drop me an e-mail and I will put you on a notification list. Right now, I am offering the pictured 17-inch jointer-plane  made of exceptionally dense red-oak. The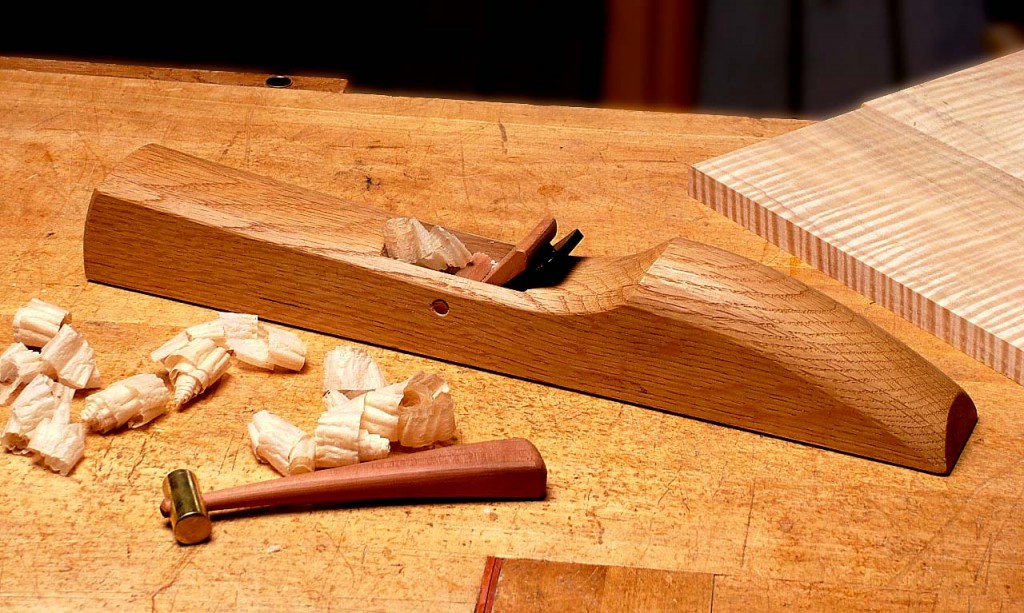 wood came from a windfall on my parent's WV property where I worked for many years. We processed this wood over 20 years ago, so it is very well seasoned!  The plane has a wedge and cross-pin of applewood and is fitted with one of my 1-1/2″ wide A-2 steel cryogenically treated blades. I made a little adjusting hammer with a pearwood handle and brass head to go with it.
Here's the plane in action, it really sings!

The bidding is now open with a starting price of $175. The auction concludes on Wednesday, April 25th at 9:00 PM EST. To join in just send me an email with your bid. I'll keep the current price updated on my "News and New Work" page. In case of a tie, the plane goes to the first received of the high bids. Payment can be made by check, credit-card, or PayPal. Shipping is an additional $12.00. The winner gets a handmade plane and hammer. I donate the wood and my labor. The proceeds (minus the cost of the plane iron — $56) go to the scholarship fund.
I hope we may cross paths down the road!

David Finck
www.davidfinck.com