Quite a few years ago I retrofitted my work bench with casters. It is great to be able to  move the beast around relatively easily as needed. Trouble was, my wall-mounted tool racks sometimes became inconvenient to reach with the bench in certain positions. A little cheapo 6-drawer plastic unit on plastic casters came my way and I decided to use it to mock up a rolling cart to hold all my most used tools. I thought it would be handy to have my tools wheeled around, close at hand, no matter where my bench was positioned.  It did prove  convenient for tool access, but I often had to roll it out of my way in moving around the shop.  Then the little casters gave out and my mock up was kaput.
This proved to be motivation to build a drawer unit under the bench top — another strategy I had been mulling for quite some time. I wanted the drawers to be durable and look decent but I did not want to make this into an involved project so I decided to simply miter the corners, then reinforce  them with 2-3 splines and glue plywood bottoms into rabbets to add further strength and rigidity.  I left a space between the bottom of the bench-top and the top of the drawer unit to provide a shelf and set the unit back enough to be out of the way of the bench-dogs.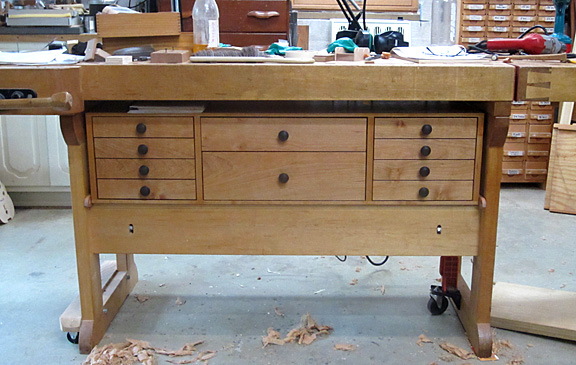 One thing I did not want to lose was the storage space I had incorporated between the stretchers so I hung the whole drawer unit on drawer glides to allow access: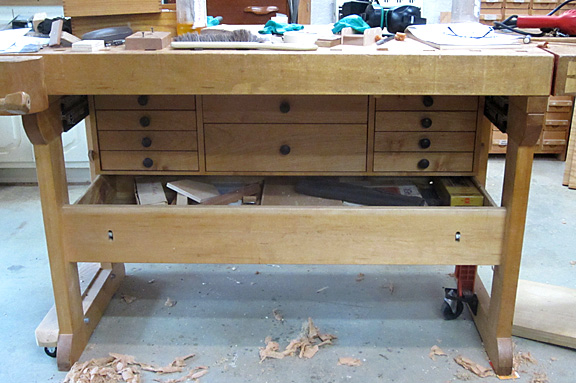 I used doubled up hardware on each side as the heavy-duty rated ones where rather pricey.  They are working out nicely. The drawers now hold, chisels, marking tools, saws, and all kinds of miscellanea.  I like it!
Until next time,df